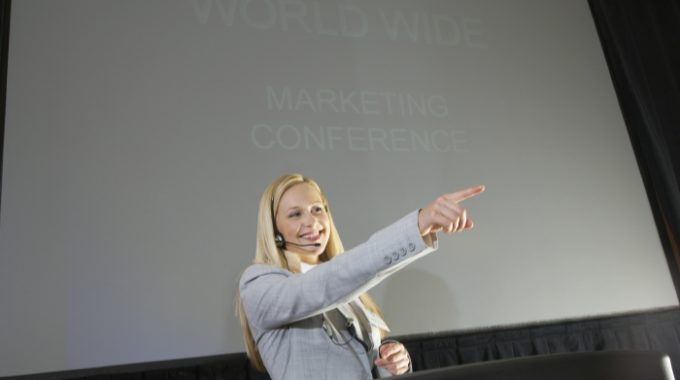 6 Ways to Establish Yourself as a Thought Leader
Being known as a thought leader in your industry has many perks. First, it opens the door to new opportunities for you, whether that's to speak at a well-known conference or get referrals for people you might want to work with. It can drive traffic to your website. And it's also a fantastic way to attract new business.
For me as a business writer, my thought leadership efforts (specifically in guest blogging) are what attracts about 70% of my new clientele.
You have more knowledge of your subject matter than you probably realize. There are people out there who need your knowledge, and by sharing it, you instantly become a thought leader they trust and want to connect to.
Here are seven strategies for owning your experience.
1. Write Guest Posts
This is obviously my favorite strategy because I'm a writer! But it's also one that you can track results from, so that comes in handy.
In addition to writing on your own business blog, you can also contribute to other blogs. The advantage? You can reach an even wider audience of people who might not otherwise have heard of you or your company. If your client base is small businesses, you could blog on sites like AllBusiness that cater to that audience.
What should you write about? What you know that is relevant to that audience. Think about the pain points your audience has. The questions. And address those in the form of a blog post. Some general ideas to get you started:
How-to posts
Benefits of X [using this general type of software, employing this strategy]
Opinion posts about industry trends or regulations
Lessons learned posts
My advice on writing guest posts is to stick to one or two sites you can regularly contribute to. I write on AllBusiness once a month, and I've been able to establish a solid relationship with the editor. That's better than writing one post and moving to the next site, and does a better job of building rapport with that audience.
Include a link back to your site in your blogger bio so people can click to learn more.
You can look at your website to see if any traffic is coming from these channels, but give it time!
2. Speak at Industry Events
Another way to establish yourself as a thought leader, if you're comfortable with public speaking, is to present at conferences and industry events. There, you've got a captivated audience in your niche who will hang onto your every word. What could be better?
The presentation itself is your opportunity to show your stuff, but be prepared to network afterward, because people will have questions. If you have published a book (more on that in a minute), you may be able to sell it in the back of the room at conferences you speak at.
Don't jet off after you speak! You likely received a free ticket to this event, so make the most of it. Meet vendors and other attendees. Hand out your business card. Make great contacts you can follow up with.
Not comfortable speaking in public? It's okay. Consider volunteering at an industry event so you get your foot in the door, get a free ticket, and get to mix and mingle.
3. Write a Book
Publishing a book—even if it's self-published on Amazon—instantly gives you this magical cachet from others. And it should: you invested the time and resources to write a book (or hire a ghostwriter to do it. Shh! We won't tell!), and it's filled with valuable information.
One thing I do want you to know is that if you write a book, you will be responsible for at least part of its marketing, even if you are published through a traditional publishing house. So you will need to find creative ways to get the book out in the marketplace. This isn't my specialty, but this post on marketing your first book might help give you a sense of what you're in for.
4. Create Online Courses and Content
If you've been working as a consultant, you're working one-on-one with clients, and you really can't make more money than what you bill hourly or for a project. But if you create informational courses and content that you then sell online, you have the potential to create passive revenue (meaning you make money while you sleep) while continuing to bring in consulting revenue.
Go deeper with this content than you would a blog post because people have to be willing to pay for it. Here's a great example: I have a client who is a dating coach, and he's built his site, SexyConfidence, as a membership site where members get access to exclusive videos, webinars, and guides. All of the content is detailed and specific, so members are happy to get their hands on it.
5. Mentor Others in Your Field
Not every task of a thought leader results in a sale. You can keep your industry knowledge sharp by volunteering your time to mentor others in your field. Maybe you meet a young professional, fresh out of college at a business mixer. She'd like to ask you a few questions over coffee. Be open to this turning into a mentoring opportunity where you can guide her based on your experience. And you never know: she could end up working for you…or bringing you business down the road!
6. Start Conversations in LinkedIn Groups
If you work virtually like I do, there may be fewer opportunities to commune with your cohorts, but actually, LinkedIn is a great place to do so online, particularly in LinkedIn Groups. Some groups are more active than others, and some, quite frankly, are just echo chambers where people post links to their content. But if you find a few groups that cater to your audience or industry, find ways to participate in ongoing conversations and start new ones. It's okay to share a link to your content occasionally, but make sure you're contributing to the overall value of the group.
There you have it: a few ways you can establish yourself as a thought leader. Whether you decide to take on one of these or all of them, you should, over time, start to be recognized as an expert in your field, and hopefully, that will translate to more sales!