Creative Ways to Save Money for Your Business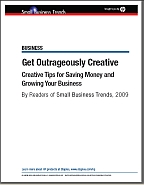 Anita Campbell of the Small Business Trends blog does an amazing job of putting out useful and free resources that help small businesses succeed.
The latest is Get Outrageously Creative: Creative Tips for Saving Money and Growing Your Business. I highly recommend it. It's got advice from some of the biggest names in the (my) business world, including John Jantsch of Duct Tape Marketing, Jim Kukral from The Biz Web Coach, and Mike Michalowicz, The Toilet Paper Entrepreneur, among many others.
It's worth the read, and who knows? You might actually learn something about how to save money for your business.