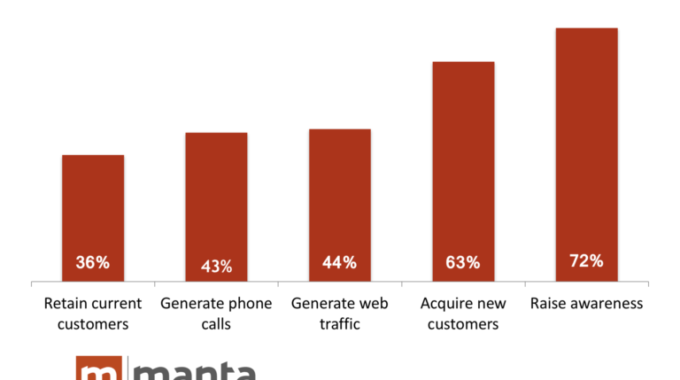 How Small Businesses are Failing with their Facebook Ads
With 2.2 billion active users, it makes sense for marketers and businesses of every stripe to leverage Facebook Ads to turbocharge their leads and sales pipeline.  And with Facebook earning $27 billion in revenue, the social media giant is not just the biggest revenue spinner for Facebook but other businesses too.
All said and done; the fact is the majority of the small businesses — 62% according to Weebly — are unable to meet their targets with Facebook ads.
So, now the question is: Why are the ads failing?
Here I listed five common mistakes that small business commit, which is failing their Facebook Ad strategy.
Issue#1. Not Crystallizing Facebook Ad Strategy into Concrete Goals and Objectives
As it turns out, most of the time, marketers fail to crystallize their Facebook ad strategy into concrete goals and objectives. It's because of this, their ads fail.
So, to capitalize on your Facebook ads, it's imperative to have a clear set of goals.
So, tell me, what are your Facebook Ad Goals?
Studies have found that 72% of respondents, among many other channels, leverage Facebook for brand awareness.
Brand Awareness
Leads
Retargeting interested prospects
Increasing website traffic
Improving customer retention
Thanks to Facebook's active user participation in the form of likes, shares, comments, and more, this makes it an excellent platform for building a brand from scratch.
Further, it's also one of the best mediums to retain customers.
So, how do you ensure that your Facebook Ads are generating results?
The answer is to set up engagement benchmarks.
This will help you determine whether the paid promotion on Facebook Ads is worth it or not.  To set an engagement benchmark for your company, you'll have to look into the follower count, past engagement rates, competitors' engagement, and overall Facebook goals.
Further, you need to figure out how much value a user click or conversion brings to your company. This will help you determine the monetary value, which, in turn, will help you justify the time and resources you spend on Facebook Ads.
Issue#2: Not Knowing the Audience Inside-out
If you think you know your customers, think again. It's because unless you know your customer inside-out, your Facebook Ads won't mean a thing to them.
Knowing their profession or their marital status is not enough.  You need to probe in-depth. For instance, you need to know more about your customers best hang-out places, online; what is that they want in life? What are their deepest fears and more?
By coming up with an in-depth profile of your ideal customers, you can easily create ads and content that resonates with them. In other words, ads that address their problems and even positions your product or service as the best solution in their minds.
Facebook Ads help you select exact preferences of your target audience in keeping with their age, gender, geographic locations, and so on.
To make a successful Facebook ad strategy, you need to ensure the right mix of audience, content, ad copy, visuals, and more and then test them continuously.
In case, you are not finding it easy to figure out the right audience for your ad, you could try using Audience Insights feature available on Facebook for businesses.
Issue #3: "If you post it, they'll come attitude"
This is yet another common mistake with roots, mainly, in the human psyche.  Humans are egocentric beings. And this attitude of theirs gets reflected in Facebook advertising.  Like, for example, once you start posting articles on your Facebook business page, and after inviting a couple of friends, you instantly want results, in terms of likes, comments, shares and more.
Well, this, "If you post it, they'll come attitude," won't work anymore. Why? It's because Facebook's growth graph has been significant over the years and theirs an unimaginable amount of traffic on every page. To top it off, 100-200 companies are targeting a different type of users. All this traffic has significantly reduced the scope of your post appearing in the Facebook feed.
So creating a Facebook page, and thinking that it will receive the desired likes and shares, won't work anymore.  Here's what you could do to get the first eyeballs on your page.
Step 1: Create quality content
Come up with videos, eBook, checklist, and so on. The only thing you need to bear in mind while creating them is that it should direct address customer issues.
Step 2: Promote your content.
Don't invest too much of your time and money. Even $1 a day is fine on Facebook Ads.
Step 3: Connect with groups that work in a similar niche.
Connecting with groups and all is fine, but see that they are not your competitors.  Show them how your piece of content has been helpful to your audience and, also, ask them whether they are willing to share it.
Step 4:  Request for likes, shares, and comments on your content
Be Bold. Don's shy away from asking people to read, like, and share your content. Once a person likes your page, the likelihood of other people seeing the posts goes up.
Issue #4: Not Taking Advantage of Ad Manager
Marketers, if anything, tend to push their ads from their smartphones.  What happens when you undertake promotions in such hurry-burry is that you don't get to target the right audience. In such cases, Facebook tends to push your sponsored posts to any lay people who generally tend to like anything that comes their way. In short, your post could be hacked by the "power likers."
Another issue is that your post will be easy prey to click farms.  Meaning, your post will draw a lot of fake interactions, which will bring you no value for your hard-earned money.
So, what should you do? Simple! Start using the Facebook ad manager for all your ads!
Issue #5. Not Analyzing your Facebook Ad Campaign
Just like any other kind of marketing campaign you undertake, you need to track and measure your Facebook ads as well.  This will make sure that your marketing efforts are paying off.
Wondering which tool to use to track and measure your Facebook posts?
Checkout Facebook Pixel. I know, the tool is not popular and you might be hearing it for the first time. However, the fact is, Facebook Pixel is a great tool that helps track every website visitor and action.
And, it helps you directly measure every effort of yours.
Issue #6. Leveraging it as a Direct Sales Tool
Facebook is a social channel.  And your customers look at Facebook in the same way.
The platform has been designed with an idea to meet and greet people and, if possible, turn them into customers.  In short, selling should be the last thing on mind if your brand is on Facebook.
So, avoid direct selling or hard sales on Facebook. Instead, use it as a medium to stay connected with your customers. For those showing interest in your brand, try retargeting. This will help boost the conversion rate of your ads.  According to Search Engine People, remarketing helps in 4x more conversions.
Wrapping Up
Nearly 62% of businesses are failing at Facebook ads.  If you don't want your Facebook ads to fail, follow the above mentioned best practices to make your Facebook Ads work for you.
Over to you now! Have you tried using Facebook Ads? What's your experience about the same?
Author Bio:
This is Jennifer Warren, staff writer at GoodFirms – a review and research platform for top ecommerce development companies, digital marketing companies, web development companies among many others. A bookworm at heart, I have successfully guest blogged for top sites such as Crazyegg, Semrush, Searchenginepeople, Sitepronews, Volusion.com, Socialnomics, Jeffbullas, mediapost among others.
Read more about Facebook Ads on  Marketing Eggspert