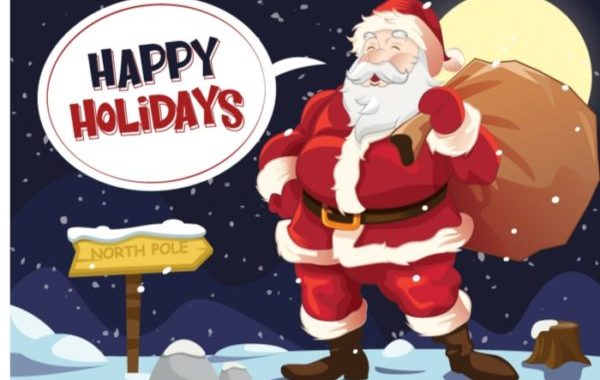 5 Things We Micropreneurs Really Want for Christmas
Originally published on AllBusiness.com
As I'm making my holiday wish list on Amazon and sending it to my mother (Don't judge! Don't you wish your mom still sent you fuzzy socks for Christmas?), I'm thinking about those less tangible things I'd love someone to give me that are perfect for a micropreneur like myself (someone who operates a business on a very small scale).
If Santa is reading this, here are the things this micropreneur hopes to find in her stocking on Christmas morning:
1. A sounding board
Micropreneurs can be lonely souls. We make all the decisions for our business, so we have to be confident that we're doing the right thing. It can be exhausting sometimes.
I recently started a second business with a good friend, and let me tell you — having a partner (the right partner) makes for an incredibly different experience as a business owner! It's wonderful to have someone to bounce ideas off of, who gets just as excited as I do about possibilities for our business . . . and is quick to put the kibosh on dead-end ideas.
Micropreneurs don't necessarily need to take on business partners to benefit from this. All we need is a business-minded friend to listen to us once in a while, cheer us on, or tell us that we're making a horrible decision.
2. A day off
I'm actually pretty good about taking time off, but I know that's not always easy for most micropreneurs. After all, we are the business. If we aren't there, it doesn't function. Even if it's just a fantasy to have a single day off without having to think about our business, let's add it to the list. No checking email. No texts from our employees if we have them. Just a solitary day doing whatever we want.
3. A financial guru
Yes, I have an MBA and can manage my FreshBooks account, but I still don't know if I could be smarter with my business's money. (I suspect I could.) One of the best things I did a few years ago was to hire an accountant to help with my taxes. Rather than scrambling in April to pay a big tax bill, he's helped me manage my taxes throughout the year, and he checks in come December to make sure I'm organized and on track for tax season.
But, Santa, maybe I need some kind of financial advisor, as well. Someone to tell me where to reinvest — or whether I'm taking too much (or not enough) salary. Someone to see the bigger picture that I usually ignore to ensure my business's financial future. Yeah, that would be nice. Not sure how he'd fit in the stocking, though . . .
4. A boundless supply of new clients
I'm pretty happy to say I'm closing out one of my best years ever, but I don't take that for granted at all. I know that, as a micropreneur, business fluctuates from year to year, based on the economy and how much marketing I do — not to mention, which direction the wind is blowing. I've never quite gotten accustomed to the ebb and flow, so it would be great if Santa would bring me more business than I think I can handle because, let's be honest, we can always handle more!
I'm at that funny place in my business where I'm doing most of the work, though I do have a freelance writer and an editor who help. But if I had just a teeny bit more work coming in, I could justify hiring more help. So bring it, Santa. I'm ready to grow in 2019!
5. A gift basket
We micropreneurs work so hard, and we usually don't stop to pat ourselves on the back. This is something I've tried to do deliberately in recent years. Each December I send my clients something nice as a thank you for their business. Some have been with me for around 10 years, so I want to show my appreciation. I do the same in the summer when Egg Marketing celebrates its birthday.
But I add one gift to the list: one for me. I mean, who else is going to buy me a fancy cheese basket? And I also do something equally cheesy: I write myself a note of appreciation, what I imagine my boss, if I had one, would say about all my hard work. It's silly, but when I get that gift basket or cupcake medley, I always smile.
We micropreneurs, entrepreneurs, and all small business owners need to step back and look at the fruits of our labor more often. Even if you can't afford to buy a fancy gift basket, buy yourself a bar of chocolate or a bottle of wine and just congratulate yourself. After all, you've created a business from scratch, and continue to ensure its success every single day.
I know that Santa may not bring me everything on my list, so I am proactive about giving these gifts to myself when I can. When there's no one else to tell you that you're doing a good job, the onus is on you.
Happy holidays to all!