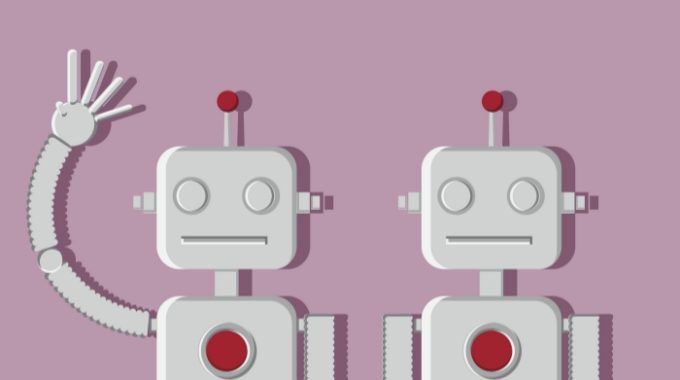 The Importance of Chatbots In Social Media Marketing
We all know that Chatbots are an Artificial Intelligence progam, which are designed to stimulate conversation with users. Internet websites are flourished with Chatbot technology, and the users are getting the experience of natural conversation via robotic technology. For this reason, Chatbots have been described as one of the most important and advanced ways of interaction between the service and the users. The Internet has converted this world into a web village, and the need for quick conversations is a must in order to know more about the services a company offers.
There are a large number of users active online, and answering their queries is a very tedious task. Human staff and executives cannot be present all the time to answer the queries. And here's where the term 'Chatbots' has its importance and necessity. Though the idea of chatbots, where robotic technology takes the place of natural talk is intimidating, it's a fact that the robots have made our life easier, and even more comfortable than it used to be. This conversation stimulating technology has eased the burden of millions of Internet services to present a classy conversation with their users. Using a chatbot, you can talk through messaging applications, websites, mobile apps and even using the telephone. 
Social Media Marketing & Chatbots - The Perfect Combo
Social media is one of the prime sources of networking in this modern world. There are countless platforms where people from all backgrounds are connected. Facebook, Instagram, Twitter, YouTube, LinkedIn, Pinterest, etc. help millions of business to get recognition. And it's a really great idea if you are planning to use chatbots as your prime services. It will compel the users to not only use your services, but they will also recommend you to other people as well. Chatbots can be a far better and advanced technology choice to create an exemplary user experience. You will be directly providing a natural, customized and personalized environment where the user can easily understand the services on offer.
One of the best benefits you can have using the Chatbot is the mighty 24/7 service benefit! And this is going to help you out during the peak hours of user activity in social media. In the platform of Internet media an incident can start trending at any time. No one knows when a simple local business will start making hundreds, even thousands of likes and shares because of a new marketing technology. Chatbots will help you cope with this situation, and maintain the class of your services even at times where there is a huge number online. No more waiting for the service or customer calls, email address, messages, etc. Using the chatbots, you can give the fastest user experience by solving their queries in real-time via bot!
Increase your Social Media User Engagement - Guaranteed!
Chatbots are nothing less than a jackpot for boosting up user engagement in social media. Be it any platform, if you are using chatbots, the chances of users taking part in the conversation increase up to 30%. It includes both, the serial users, and the random ones. In other words, you will directly promoting your service, and serving your customer at the same time!
For example, these days the users are fond of new web applications which are trending around the world. There are many conditions where one needs to jump from app-to-app to complete their processing. So, a similar case can happen with your service page, or social media handle as well. Users may require to jump to other apps for looking in the details, transactions, payment, data share, save, and other tasks. Chatbots in-app integrations can help you to create a massive following; just because you are letting your users reach all their favorite applications at the same time!
The 2000s were the decade of SEO and SEM marketing strategies. They are still prevalent, but now things have changed and advanced a lot. The present decade will be ruled by marketing integration bots and techniques. Statistics say that 56% of users would rather message than to call customer service. And 53% of users are more likely to shop with the business they can message.
Secure your Business's future via Chatbot Social Media Marketing!
There is a vast number of people who are moving from using conventional social networks to messaging apps. The growth of these messaging platforms is so burgeoning, that it has surpassed the top four existing social media networks. Hence if you want to be in a win-win situation, then using Chatbots will be the perfect idea for you to use in business. The use of Chatbots will decrease the complexity of users to navigate through ads, internet fatigue, and competition. Even the cases of increased monetization won't have any effect, which will result in a better ROI.
Chatbots are one of the core softwares to use in the direction of transforming the world of social media marketing. They are now a potent tool to change the meaning of user engagement in social media. You can generate as many leads and revenue using the Chatbot technology. And automating your conversations will automatically save your time and money as you save countless hours by automating the conversation. And instead of asking an employee to give up all their time to question-answer the services, you will be using Chatbot techniques!
Direct Reach to the Users Inbox via Chatbot Technology!
Chatbots ensure a personalized user experience, thereby making one-on-one easy conversations, so that users can understand more about the services, products, applications they're using. An easy to operate personalized messaging platform is far more convenient than watching the videos or looking up the service ads. The refreshing ideas of direct reaching to the user's inbox works both in the favor of the users and the business. The conventional use of Chatbots provide opportunities and bring your business into the mainstream. The biggest brands are looking for increased personalization with the users to maintain their peak trade. Hence Chatbots can undoubtedly be a USP with your brand's popularity. If your business is exposed to a larger audience, or if your brand is known only to a small cult of people, Chatbots is a proven technical step.
Finishing Thoughts
Not every customer knows all or even much about your business. Hence your prime aim must be to let them know your business know-how in an easier and understandable manner. Chatbots will be supporting your business in this and an increased social media presence will not only make your brand more popular, but the direct reach to your audience will help create a loyal user club as well.
Though there are limitations of using Chatbots, and for the sake of convenient marketing standards, you must be aware of those limits. Social media is a brilliant resource for getting your work and business promoted, and chatbots will unmistakably prove to be the best companions in the long run. Good luck with your endeavors!
Author Bio:
Nikunj Jagad is a founder of Direct Leadz, a web design, mobile app development, and digital marketing firm. At Direct Leadz, he overlooks management and often lends a hand to the website development team.
Read more articles about Chatbots and Social Media Marketing on Marketing Eggspert