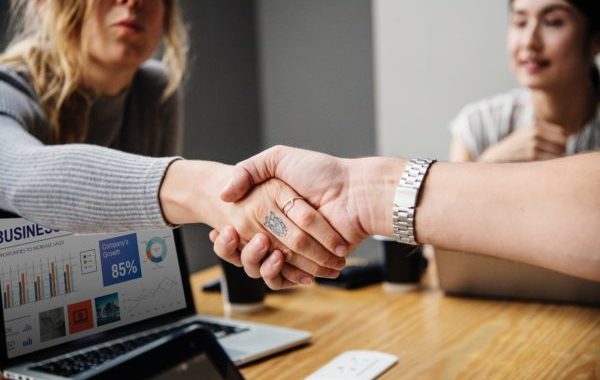 The Secret to Effective Business Networking
I've been attending local networking events as long as I've run my content marketing agency (so, 13 years). I'm aware that trying to sell yourself isn't the general concept behind effective business networking, that it's better to build relationships over time rather than "machine-gunning" your business card to everyone in the room. And believe me: I've seen people do that, and it never goes well.
But it surprised the heck out of me to get advice about networking from none other than my mother recently. I was complaining to her that work had been slow this summer, and she suggested I try out her "Mamma Networking Theory."
Asking her to elaborate, she told a story about how my brother, recently graduated from high school and without contacts in the Arkansas town we had just moved to, was struggling to find a job. Our mother told him he needed to know someone to get a job. She encouraged him to ask any and everyone he could for leads, and she did the same. Apparently, the parents of a friend of mine owned a cleaning service, and when my mother told them that her son was looking for a job, they ended up hiring him.
Her point was: If you don't ask, you can't get what you want. And you never know who might have what you're looking for unless you ask.
Applying the "Mamma Networking Theory"
I grumbled after reading her email because I felt like if I told people business was slow, I'd look like a failure. There's this weird patina that entrepreneurs wear sometimes to seem like they're more successful than they are so potential clients flock to them. Tell people you're having a fire sale on marketing and they'll flee, or at least that's what I thought.
I decided to reframe my thinking. Rather than, "Hey, I'm broke. Got any work for me?" I decided to change my wording to, "I'm taking on new clients. Do you know someone I can help?"
I did this with several clients I'm close to, and some said they had more work they could pass on to me. Score.
Armed with this new attitude, I headed to my community business association mixer. I've been attending these events for years, so I know most of the people there. Relationship building? Check!
I chatted with the office manager of the association and mentioned that years ago I'd pitched his boss about helping with social media management. My assumption was that they were doing it in-house and didn't need help.
"You should talk to him," he told me.
Fueled by that encouragement, I sauntered over to the director of the program. "Hi, Scott. Several years ago, I wanted to help you with your social media. I'd like to extend that offer again if you're interested."
Within seconds, we'd agreed to meet to discuss it. Bam. A few days later, I'd signed on the company as a new client. Had I not asked, I wouldn't have received.
How to Get What You Want in Business
Of course, there is a fine line between doing effective business networking by being a valuable member of a business community and asking for business. You need to know your audience and genuinely want to help them, not just rake in more revenue. I knew a few of the pain points of this business with regards to social media, so I was able to quickly offer free advice on how they could improve. That usually works one of two ways: They take your advice and "DIY" it, or they're so impressed with your vast knowledge that they hire you. My free advice got me the latter.
So what do YOU want in your business? Are you asking for it? If you want more sales, talk to people at networking events about the area you specialize in. If you're an accountant, ask if they manage their own accounting software and invoices or have a professional they work with. Ask what pain points they have. Even if they're not in the market for an accountant, you may still be able to provide useful tips they'll be glad to have, and you never know who they know they can refer you to.
When you leave the conversation, if it's not turning into a meeting or a sale, you can ask, "Do you know anyone I might be able to help with XYZ?" This gets them thinking about their own circle, and they may have someone who is looking for exactly what you offer! By the way, I'm trying this approach in dating, asking friends if they know any amazing men that are good enough for me! Stay tuned on that.
And in general, people do business with the people they know. A lot of the events I go to center around having a beer and nibbling on appetizers while we talk about what's happening in the community. Even if we don't discuss business, these are the people I turn to for web design, massage, and dining out because I have relationships with them and want to support them. If you're an active and helpful member of your community, people will do the same for you.
This was originally written by Susan Guillory for AllBusiness.