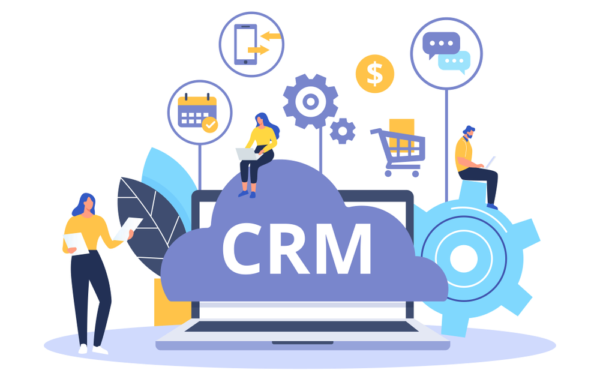 CRM Software: How to Accelerate Your Business Growth with it
Business growth is an important attribute of entrepreneurial life. When a person starts a business, he/she has to take care of several factors to establish it and make the desired progress. Despite introducing an exponential business model, many business organisations are forced to shut down their operations soon after launching.
It is because they fail to sustain in the competitive business market and make profits. Manual work and production techniques are also responsible for the untimely demise of several business organisations because they fail to compete with AI-driven business organisations.
That is why several business organisations have started to use CRM software for business growth and expansion. Let's see how it helps to accelerate business growth.
1. Enhanced Security of Important Business Data
The unreliability of business partners and employees cause the demise of many business organisations in the world. Unfulfilled obligations, the sudden disappearance of responsible persons, the introduction of fraudulent schemes in daily business activities, etc., are quite prevalent in these days. Almost all enterprises are vulnerable to cyber-attacks, insider trading, stealing of business secrets.
In cases of data loss, a company faces the loss of business opportunities worth millions of dollars & bad reputations in the market. That is why use the CRM software for data collection, storage, optimisation, segmentation, and utilization of optimised data in business marketing campaigns.
CRM software always works as a centralized data management system. It accumulates data automatically and stores them on cloud servers. It is free from unauthorized access and hacking attempts.
Only authorized persons can get access to that data and make use of that. The CRM software automatically tracks visitor's behaviour with your brand and let you know about your loyal customers. You can offer some freebies and discounts to those faithful customers and get repeat business from them. It also helps to get new customers.
2. Instant Communication with Customers
Online chat, phone calls, e-mail correspondence and other methods of communication are the first assistants that help entrepreneurs to ensure the sale of goods and services to customers almost every day. However, different business activities keep business marketing professionals busy.
So, it's not possible for them to reply to all emails and messages they get. The introduction of CRM software speed up communication with customers, makes them happy, and they like to deal with the brand more often. You can set some default answer to frequently asked questions to help customers get a quick answer to their concerns. You can also automate the delivery of newsletters with the help of CRM software and win more customers. Automated SMS and email alerts facilitates instant communication with customers and keeps them informed about your business.
3. A Great Help in Business Marketing
The more customers aware of your brand, the more business opportunities are likely to come in your way sooner or matter. Therefore, entrepreneurs emphasize on business marketing campaigns to increase awareness of the brand, products, services, attract the attention of customers, and generate leads.
With the help of CRM software, you can automate business marketing campaigns and increase the sales volume by leaps and bounds. Connect the CRM software with your website and Facebook page & start selling more products and services on a daily basis.
4. Business Automation
Customer relationship management software facilitates business automation. In this process, machines, business management software, CRM software, and tools work quickly and accurately (as per data input made by humans) and produce error-free results. Business automation is gaining momentum these days. Companies have started to replace humans with robots, CRM tools, and software. It is because the quality of work of any company always influenced by the human factor.
Always keep in mind that no employee can be insured against making mistakes. Sometimes, these mistakes cause a major loss to the business organisation. Therefore, the automation of business processes reduces the human factor in daily business activities up to a great extent. The chances of errors are eliminated up to a great extent.
With the help of the best CRM software, you can automate daily business activities, such as appointment booking, cash management, employee performance tracking, creation of reports, etc. Successful automation makes a company more competitive, allows it to become a leader in the market and easily to various changes. Automation facilitates the processing of business documentation and their storage.
You can easily find the right information on your computer screen in just a few clicks and make important business marketing decisions. You must also note that Automation allows your company to conduct more productive activities even in times of crisis.
Prudent executives of companies focus on the maximum automation of business processes. It facilitates the success of the company, its products and services. Automation also helps make customer service faster and better as you can coordinate all actions of employees very well and increase their outcome up to a great extent.
5. Business Mobility
Modern mobile technology accelerates the speed with which people do almost everything. With modern customer relationship management software, you can easily manage important business activities through a portal mobile device.
It allows you to increase customer interaction, speed up the customer service, and transaction opportunities. Allow your employees to use the CRM software on mobile devices. It will enable them to develop a deeper relationship with customers, contact past customers with new product information, service information and current promotions, and sell more products every day.
6. Prevention of Fraudulent Activities
Unfortunately, fraudulent activities are quite common in daily business activities. It is a very common and painful phenomenon for entrepreneurs, business owners and companies. Dishonest employees don't work honestly.
They steal trade secrets and sell it to the rival companies for financial gains. Their work performance remains low. The compliance of different rules and regulations is also an issue for them.
The introduction of CRM software allows you to streamline daily business activities, track your employees 24*7, see daily sales, and monitor what employees are doing on the work floor. Ask all your employees to register on the CRM software, mark their attendance, off time, leaves taken by them, sales and leads they generate, etc.
All these factors will help you to know who are honestly working for the organisation and who are involved in time-pass activities. Based on the data obtained, you can manage your employees and ensure their 100% growth. The best CRM software also helps in inventory management. It helps to make the best use of company's resources, decrease the wastage, and catch wrongdoers.
Final Words
All business owners always like to make progress in the business by leaps and bounds, sell more products/services on a daily basis, and generate ample revenues. Introduce the CRM software to your business. Train team leaders, employees, and managers how to use the best CRM software for business automation and expansion. So you see amazing results too.
The effective use of Customer relationship management software enables you to serve a large number of customers easily, meet their expectations, and accelerate the business growth in all directions. The CRM software collects big data and optimizes it automatically. Use the optimised big data to make business marketing campaigns more effective & take your business to a new level. Best of Luck!
Author Bio:
This article is written by Julia Ching. She is associated with Salonist, where she is working as a writer. She manages all content management projects and is keenly interested in writing technology, CRM software and Business Software related topics. For more follow her on Twitter @juliaching6
You can read more articles about CRM Software on Marketing Eggspert.