Content marketing is a proven marketing strategy where people who are selling products or services use website articles or blog posts to attract the attention of readers.
The process starts by determining what people are finding interesting on any given day. You then write and post content to your blog or website that addresses this popular topic. The objective is to capture and capitalize on the tsunami of people who are currently hungry to read about a certain subject that is popular at the moment.
Along with your article about this trending topic, you introduce your products and services. You can mention your business within the article or on the side, top or bottom of your blog page.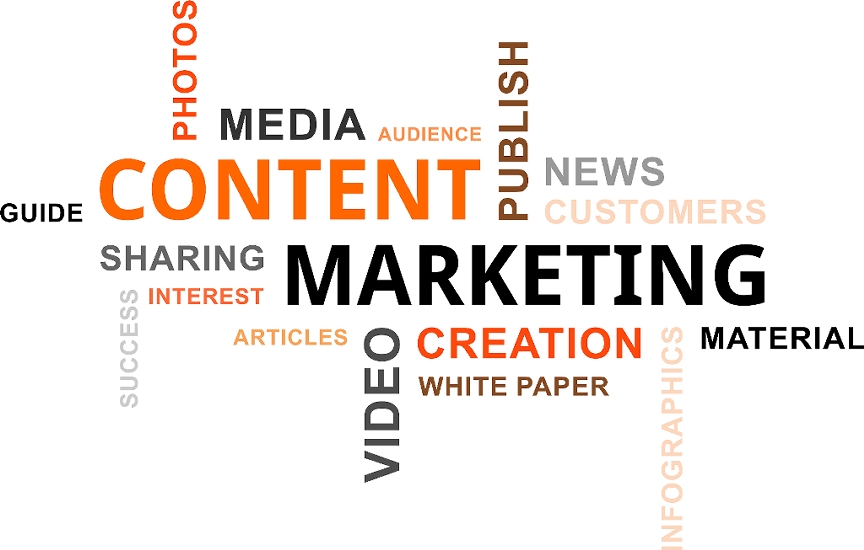 It's possible to find a trending topic in your field of work, your niche, and relate it to the product you are selling. For example, if you are promoting a home security system or the installation of security devices, you could tie in your business with a recent widely read account of a break-in of a celebrity's home.
As people type in the keyword phrase, looking for more information about the celebrity or the recent break in, there is a possibility that they will come across your article, especially if you have employed proper SEO techniques that will help your article rank high in the Google search engine result page listings.
The following content marketing tools will provide you with all the help you need with your content marketing work.
Buzzsumo
Once you decide to employ content marketing, you'll want to know what topics are attracting the most readers. It's no longer necessary to guess this because websites like Buzzsumo reveal the hot topics of the hour. This is valuable information for people who market their products and services using content marketing since it clearly shows what readers are most interested in.
If you can write and post articles using the topics found in these popular stories, your content will be more likely to be found and read than if you chose to write a topic that people are not as interested in at the moment.
Head over to Buzzsumo.com to see what this site has to offer. Begin by entering a keyword or phrase related to your business. There is a vast amount of free information on Buzzsumo and there is a paid version if you need more.
Hemingway Editor
This tool is your 11th grade English teacher in digital form. The Hemingway App downloadable program points out areas in your articles that may confuse readers and could be improved. To learn more about the virtues of the Hemingway App, check out this great post written by C.K. MacLeod.
Contently
Contently helps you create high-quality articles, especially if you are part of a writing team. Putting your content in the cloud allows you — and your team members if you have any — to access the writing project at any time.
In addition, Contently will help manage the various editions of your content. Every writer has experienced the confusion of searching for the most recent version of an article or larger writing project. This tool will keep the versions organized for you.
A built in calendar will help you keep your writing projects on schedule. You'll be able to plan your work days, weeks or months in advance and stay on track, knowing where you're headed and how fast you need to get there.
Furthermore, if you do find yourself falling behind with your writing plans, Contently has professional writers who can help you get your writing projects done on schedule.
This tool also has a lead generation feature for those who want to collect names and email addresses so they can periodically connect via email with people who are interested in their niche.
Outbrain
Outbrain helps you to get your written content in front of big name website owners. It's important to write good articles that people want to read, but until that content is found by the most relevant audience that wants to read what you have, it cannot help you grow your business.
Hubspot
Hubspot is one of the most popular internet programs used to help content marketers optimize their efforts.
In addition to performing similar tasks to the ones described above, it also tracks what's going on with your content marketing campaigns. All successful marketers incorporate tracking into their routine. Without tracking, it's impossible to be sure what's working and what is not.
Curata
Curata's unique feature is content creation software. It finds good content on the web and helps you piece it together into unique articles you can use to promote your products or services. This is ideal for people who struggle with what to write.
Curata is like a writing coach who makes suggestions and helps you build articles that readers will find valuable. The advantage is that you can product more content in less time and be confident that content is good.
As you can see, there is a lot of help on the internet for people who want to promote their products and services using articles and other forms of content.
The tools listed above can be coordinated to develop a comprehensive marketing plan that will optimize your talents and resources. These tools can:
Suggest ideas for your articles and other content
Find relevant, existing content that can be used as a springboard for your content
Edit and improve your written content
Send the articles out into the world via social sharing
Collect readers' contact information so you can continue to promote your business and expertise
Track the effectiveness and reach of your written content
Consider content marketing for reaching readers who will love your information and come to trust you and your business.
Image: Photospin
Author bio:
Eric Gordon is a business-focused marketing professional based in Houston. His mission in life is to help his clients get quality and consistent leads using the latest online marketing and SEO strategies. In his spare time, he enjoys playing golf and watching sports. Follow him on Twitter at @ericdavidgordon